More About eCommerce
E-commerce, short for electronic commerce, refers to the buying and selling of goods and services over the internet. It has become a fundamental part of the modern business landscape and has transformed the way people shop and businesses operate. Here's more about e-commerce business.
Key Components of a E-commerce website:
Online Storefront

: The digital platform where products or services are displayed and sold.

Shopping Cart

: A virtual cart where customers can add products for purchase.

Payment Gateway

: A secure system for processing online payments.

Product Catalog

: A list of all the products or services available for purchase.

Inventory Management

: Tracking and managing stock levels.

Order Fulfillment

: The process of processing and shipping orders.

Customer Relationship Management (CRM)

: Tools for managing customer interactions.

Security Measures

: Ensuring the security of customer data and transactions.

Marketing and SEO

: Strategies to attract and retain customers.

Customer Support

: Addressing customer inquiries and issues.

Analytics and Reporting

: Data analysis to improve the business.
Why is a good eCommerce website important?:
Competition

: The e-commerce space is highly competitive.

Cybersecurity

: Ensuring the safety of customer data is crucial.

Logistics and Shipping

: Efficient order fulfillment and shipping are essential.

Payment Processing

: Handling online payments securely.

Customer Trust

: Building and maintaining trust is vital for success.
E-commerce is a dynamic and continually evolving industry. To succeed in this space, businesses need to adapt to changing consumer preferences, technological advancements, and market trends.
E Power Package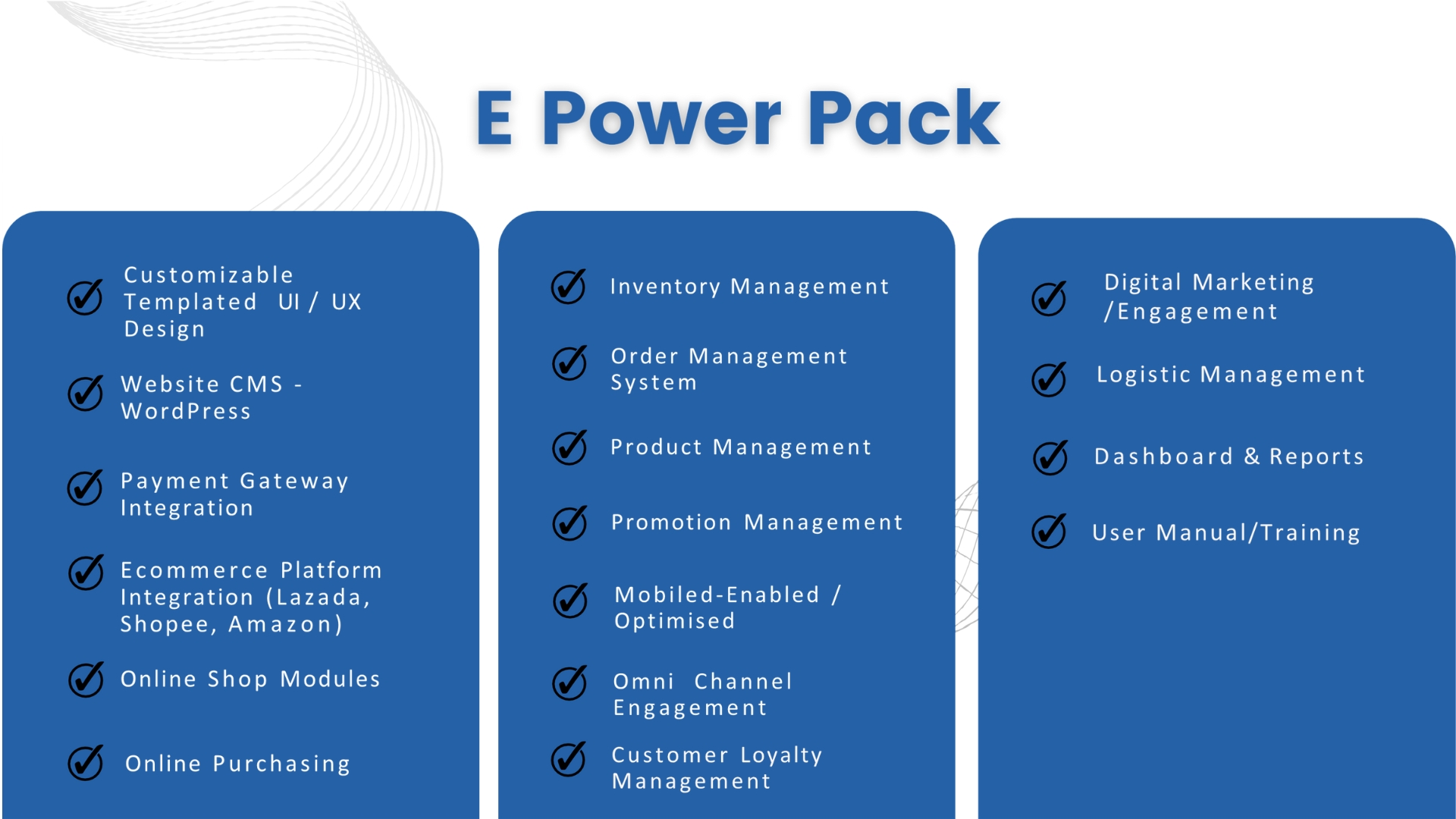 Contact Us Today!
www.w360.asia
+65 6970 2800
hello@w360.asia
Why Choose W360 Group?
At W360, we create eCommerce websites that promise your visitors an enjoyable experience. With our experienced IT team and digital marketing experts, our goal is to ensure that your business website encourages your target audience to take action, increasing your conversion rates!
One Step Solution – Designing, Programming, System Integration
Custom Design – In-House UI/UX Designers, Wide Range WordPress Templates
eCommerce Expertise – Team Up With W360 Digital Marketing Experts, Integrate With Other eCommerce Platforms
Mobile Friendly – Workable On Any Mobile Devices, Adjust To Give Better Viewing Experience
Content Optimization – Essential SEO & Site Health Check, Keyword Research & Refine Content Structure
Training & Support – Demo & Train Businesses To Manage The Website Inventory, Logistics And Payment
 At W360, your eCommerce success is our priority, and we're here to partner with you every step of the way.
We would love to hear your thoughts on upgrading your website and help you grow your business with powerful website design.
Activate Our Digital Superhero.
DIGITAL MARKETING SERVICES