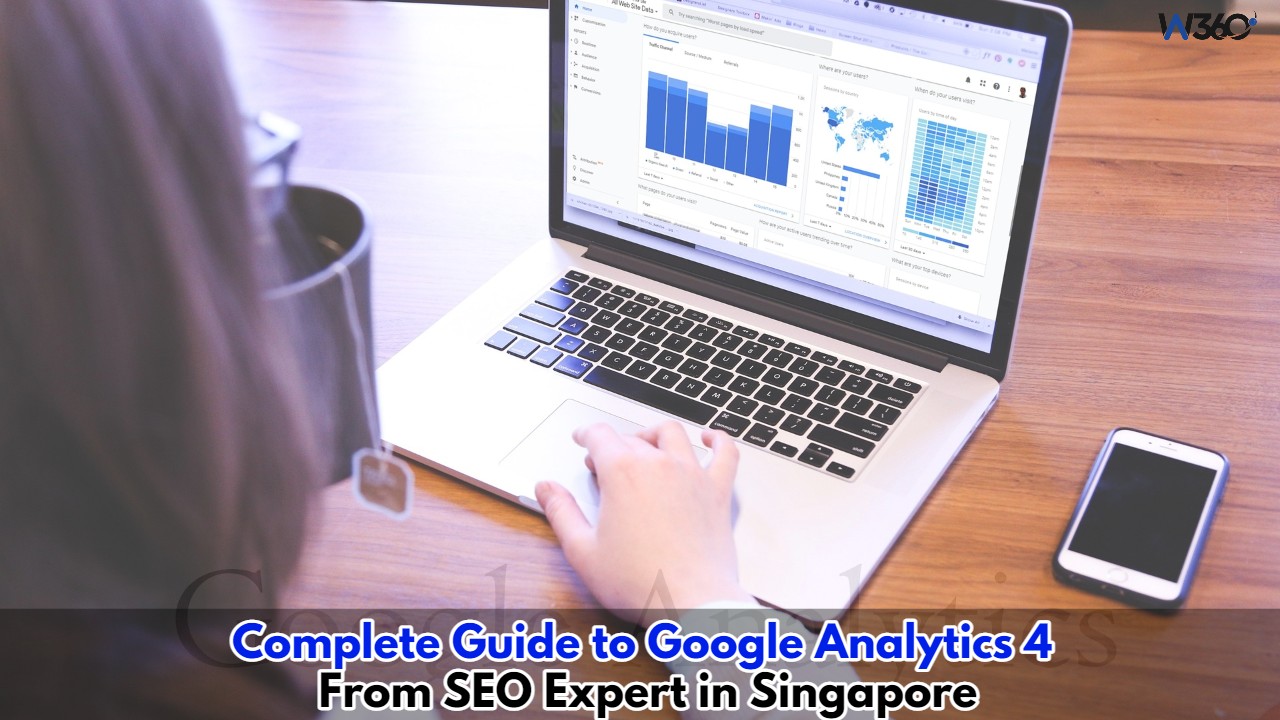 From July 1st 2023, Universal Analytics (the standard version of Google Analytics (GA)) will stop processing new data. From then on, Google Analytics 4 will be the only Google tool that can be used to track your website activity. While there is time for the standard version of GA to cease processing data, adapting to GA4 will only put you ahead of the competition. That is why as an SEO expert in Singapore, we are here to discuss everything you need to know about Google Analytics 4. 
What is Google Analytics 4?
Google Analytics 4 has been developed in order to provide more data throughout the entire lifecycle of the customer journey. Essentially, it is focused on providing more data after the customer has been acquired. This includes their level of engagement, monetisation and retention. One of the main reasons that Google has decided to upgrade this property is due to shifts in consumer behaviour as well as changes in online privacy policies. 
These shifts have helped Google in coming to the conclusion that the current analytics solutions don't provide a complete view of the customer journey, especially since it is largely a cross-platform experience. Most businesses find simply managing the immense volumes of data a challenge. This is particularly difficult as this data is also siloed in different teams or departments, with many analytics tools unable to keep up.
How is Google Analytics 4 better than its predecessor?
In order to help solve this growing issue, Google Analytics offers a machine learning-based approach to cross-platform insights all while having a privacy-centric approach. This can help marketers find helpful insights automatically, and provide a more complete understanding of their customers across different devices and platforms. 
Moreover, since this software is privacy-centric by design, you can also rely on analytics as more privacy restrictions are put in place and gaps in your data are created. 
It offers better integrations
This upgrade offers deeper integrations with google ads, finally offering marketers a tool that is able to measure app and web integrations together. In particular, the integration allows you to see in-app and web conversions for a number of platforms which includes Google Ads and YouTube ads, and  also other non-Google paid channels like Facebook. It also includes organic channels which include search, social and email. This integration helps in simplifying the process of measuring the impact of all your marketing investments, no matter the platform. 
This upgrade also takes a much more customer-centric approach to the customer journey. The customer journey is typically a pretty fragmented experience as it involves various devices and platforms. However, the upgrade can give you a more comprehensive view of how your customers interact with your business, including information about where your customers are coming from and what actions they take throughout their lifecycle while interacting with your business. 
It offers better reporting features
Previously, Google Analytics only offered a report on Acquisition. However, in Google Analytics 4, Google has made a lot of improvements, simplifying the process of tracking a customer throughout the marketing funnel, which involves the inclusion of a new section called 'Life Cycle'. This includes reports for Acquisition, Engagement, Monetisation, and Retention. These new reporting features offer more visibility into the later stages of the customer journey. 
Additionally, there are more advanced reporting capabilities in the 'Analysis' section that offers a number of templates that analyse conversion funnels, the user journey, cohort analysis and more. 
It has adapted its data controls
The new Google Analytics has been designed in order to adapt to the new privacy regulations. This new privacy landscape involves more granular controls for collecting, retaining and analysing user data. Thus, Google Analytics 4 is developing approaches to data collection that doesn't use cookies or identifiers, instead relying more on data modelling in order to fill in gaps in the customer journey whenever data is incomplete or inaccessible. 
How to start using Google Analytics 4
If you are setting up an entirely new property, the default is now Google Analytics 4, however, if you have already set up your property, you will have to make the transition to Google Analytics 4. 
Since it isn't just a new version of the old tool and is an entirely new tool, you will need to start the transition by having both Universal Analytics and GA4 set up simultaneously. It is recommended that you set up your GA4 property as quickly as possible since you can't import data from Universal Analytics. This way, you can start collecting data as soon as possible. This will also allow you to get familiar with the tool before completely replacing Universal Analytics. 
Google recommends using this method and offers features that allow you to link your Universal Analytics and GA4 property, even though you can't necessarily import the data. When you link these accounts you can use the setup assistant in GA4 to migrate configurations from your Universal Analytics account to the new account. 
Make the most of Google Analytics with an SEO Expert in Singapore
Google Analytics 4 is an incredibly powerful free SEO tool, however, it all depends on how you use it—and chances are unless you are a search engine optimization expert or SEO specialist, you are probably not using it to its full potential. W360 Group is a leading SEO specialist in Singapore that offers a number of custom SEO expert solutions that work. Reaching and staying on the first page of the search results requires the use of an SEO expert, and we are a company that offers both SEO expertise and dedication. 
Book a meeting with W360 Group today to discuss a custom SEO solution for your business.