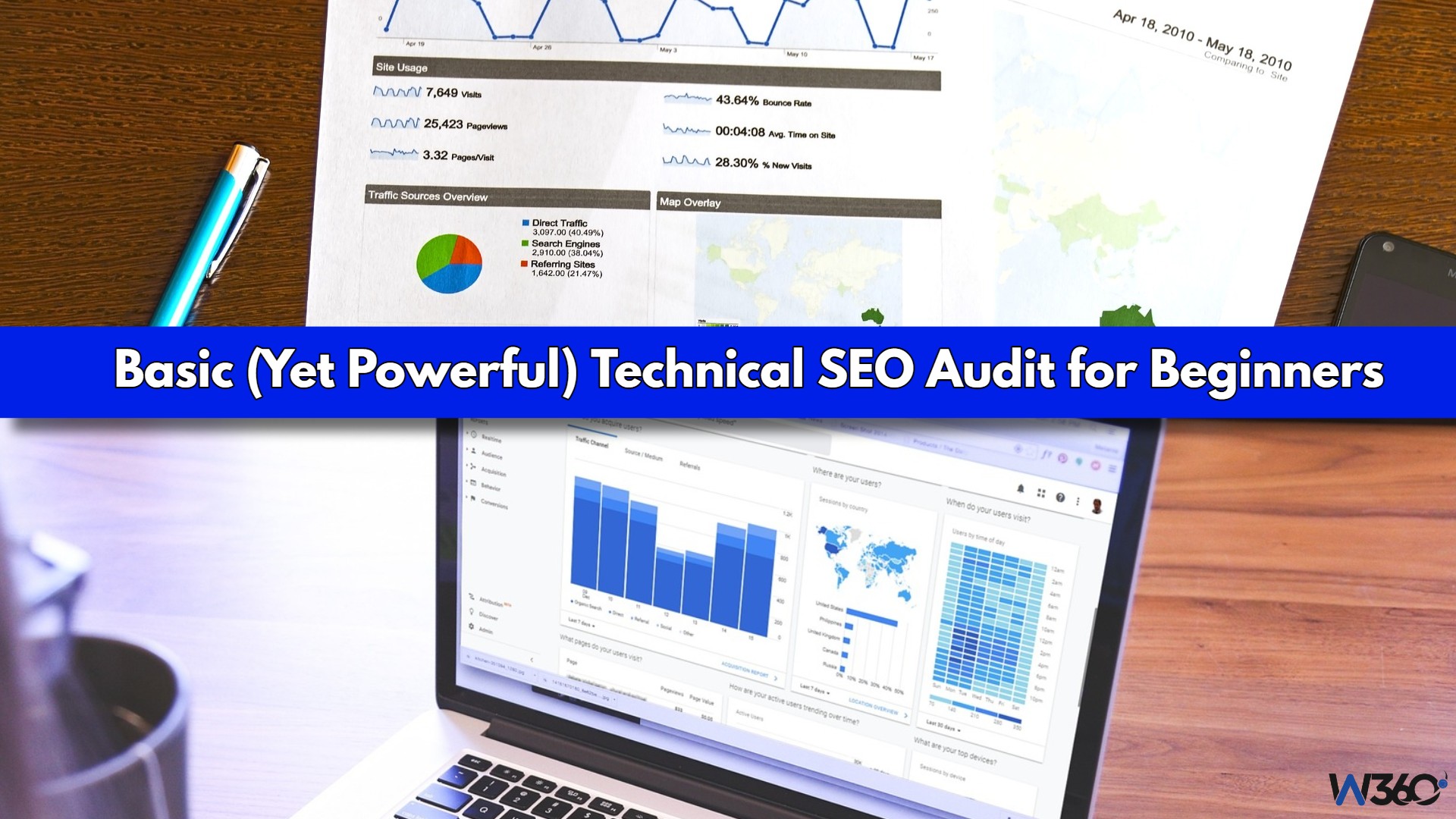 A well-conducted SEO audit has the ability to uncover more opportunities to improve a website's search performance. It entails identifying and correcting technical, on-page content, and link-related issues. As there is no standard approach, everyone is free to adopt an SEO audit process that is unique to them. However, there are some fundamental issues that all website owners and SEO audit specialists should be aware of. Let's look at some of the key issues that a technical audit must identify and address in order for your website to perform and rank better.
What is an Advanced Technical SEO Audit?
An SEO audit is a process of discovering issues or errors that may prevent your website from ranking on Google and other search engines. Typically, an SEO audit would look into the following:
Ensuring that Google correctly crawls, indexes, and renders your website

Examining your site for on-page SEO issues

Examining your off-page SEO for potential problems on other sites that relate to or link to yours

Validating that your site provides a positive user experience (for both mobile and desktop users)

Optimizing your content for keywords

Conducting a search on your website for duplicate or thin content (content with no value to the visitor)

Setting up and maintaining extensive reporting to monitor the functioning of your website
Why Make an SEO Audit Request?
Running an advanced technical SEO audit can help you detect and address any technical SEO concerns. It will help you improve the overall search performance of your website, fix on-page SEO issues for more organic clicks, and help your content rank higher with optimised keywords. 
With the use of SEO audits, your website and company can avoid:
losing organic traffic (as a result of bad site health)

losing potential sales and ground to rival brands

poor indexing of your website (which prevents searchers from finding it)

being penalised by Google for toxic backlinks
SEO Audit Tools and the Things You MUST Check
There are many site audit tools that can come in handy when conducting an SEO audit. With a few tools like Google Search Console, Semrush, and Google Analytics, you are well-equipped to conduct a comprehensive site audit. Use a site auditing tool to perform a site crawl before you begin the audit process.
1. Examine for manual activities.
When a human reviewer at Google concludes that your site does not comply with their webmaster rules, this is referred to as a "manual action." As a result, some or all of your web pages will not appear in website search results. Google Search Console provides a "report on manual actions," and it is always advisable for you to check this report when conducting an SEO audit.
2. Examine organic traffic.
Google's search algorithms are constantly being updated. Many of these upgrades are aimed at specific issues such as link spam or article quality. As a result, it's critical to monitor organic traffic dips that coincide with known Google upgrades, as these may indicate specific issues.
For example, these algorithm updates might target websites in a certain industry or all websites that don't have enough Expertise, Authority, and Trust (E-A-T).
Google Search Console allows you to check your organic traffic trends for free. Simply go to the "search results report" and select the preferred time period. This will enable you to run an advanced SEO audit that will benefit the site in the long run.
3. Look for HTTPS-related problems.
HTTPS is a secure protocol for sending and receiving data from visitors. It aids in the security of passwords and credit card information, and it has been a minor Google ranking factor since 2014.
By visiting your website, you can see if it employs HTTPS. It's safe if the address bar has a "lock" icon.
However, on some websites, certain pages load securely while other pages do not. Therefore, it is recommended that you look into it further when you conduct an SEO audit.
4. Make sure you can only access one version of your website.
People should only be able to access one version of your website. If you happen to have multiple websites, they all should be redirected to the master website.
This is very significant since Google considers all duplicate websites to be distinct site versions. Having many website versions accessible can lead to crawling and indexing issues. It can even dilute link equity in some rare cases, which can have a negative impact on rankings. So whether you are conducting your own SEO audit or have raised an SEO audit request, make sure this issue is looked into.
5. Examine for indexability issues.
Google search results are derived from its index, a database containing hundreds of billions of web pages. To get ranked, your pages must be included in this index. It is also critical to keep pages that aren't useful to searchers out of Google's index, as this might lead to certain SEO concerns. Indexing difficulties can become rather complicated in the long run, so it is important that you investigate the fundamental indexing issue when conducting a technical SEO audit.
– First, look for "No index page" alerts in Site Audit's Indexability report.
Second, in the same report, look at the number of indexable URLs.
Since Google changed to a mobile-first indexing system in 2019, mobile friendliness has become a worldwide ranking factor.
It is simple to test for mobile friendliness. Simply navigate to Google Search Console's "mobile usability report." It notifies you if any URLs include issues with regard to mobile usability.
6. Examine page speed.
Since 2010, page speed has been a minor ranking element on desktops, and since 2018, it has been a minor ranking component on mobile. But there is no formal rule about how fast a website should load, and there are many things that can be used as proxies.
While some may consider this insignificant, it is still worthwhile to take a brief look at your site's performance while you conduct an SEO technical audit. as no visitor would want to wait forever for a website to load.
7. Look for broken links.
Another distinct criterion  you must look into when you receive an SEO audit request is broken links. Broken pages on a website are never a good thing. If these pages have backlinks, they are functionally useless because they lead nowhere.
To detect broken pages on your website, go to your site audit's "internal pages" report and click the number under "broken."
8. Examine the site map for errors.
A sitemap specifies the pages you want search engines to index. It should not include redirects, non-canonicals, or defunct pages because they provide conflicting signals to Google.
9. Examine basic on-page features.
A meta description and H1 tag should be present on every indexable page on your site. These important on-page features help Google understand what your page is about and get more people to click on your results. To look for problems, go to the "issues" tab in the Site audit content report.
Google frequently displays meta descriptions in search results, so strive to make an appealing one for each significant page. Missing H1 tags, on the other hand, frequently indicate a larger problem such as an incorrectly coded theme. By selecting an issue and selecting "view affected URLs," you may discover which URLs are affected.
10. Look for content gaps.
Content gaps occur when crucial subtopics in your content are overlooked. As a result, you don't rank for as many long-tail keywords and may not rank as high for your main keyword as you could.
Here's a quick approach to identifying content gaps:
Enter the URL of one of your pages into "site explorer." Navigate to the "content gap report." 

In the site explorer, paste the URLs of a few similar pages that outrank your page. Select "show keywords." 
You'll see that some pages rank for certain keywords but not yours. Many of them will just be new ways to search for the same thing, but some may represent subtopics you've overlooked.
Conduct an Advanced Technical SEO Audit with W360
In order to ensure that your website remains competitive, you will need to invest your time and effort into conducting a thorough technical SEO audit. With W360 on board, you can rest assured that your SEO audit is carried out to perfection. W360 SEO experts will ensure that your page is optimised for technicality and content so that you can rank high on all search engine results. This, in turn, will help generate better traffic and net more conversions. At W360, our digital superheroes understand that every business is different and comes with different requirements, so we ensure that we fully understand your needs to deliver comprehensive digital marketing solutions with results-oriented strategies that are on par with international best practices. Contact W360 Group today for your next SEO audit in Singapore!